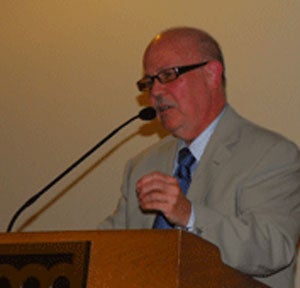 Considering that the first NCLR featured the nature writing of one of North Carolina's earliest travel writers, John Lawson, it is appropriate that the 20th issue returns to Environmental Writing in North Carolina for its special feature section. We are currently gathering art and photography for essays by David Cecelski, Janet Lembke, and Brent Martin and poetry by James Applewhite, Catherine Carter, and doris davenport while we wait for essays by Jan DeBlieu and Bland Simpson and an interview with George Ellison by Kathryn Stripling Byer. The Poetry Editor is still reading the numerous poetry submissions we received—over 50—for this issue, and we have sent out several relevant books of poetry and nonfiction for review in this section. UNC-Pembroke Assistant Professor Scott Hicks also sent to us an article on teaching a class on North Carolina environmental writers, which includes several of the same writers to appear in the issue, as well as others like Charles Chesnutt, Allison Hedge Coke, Randall Kenan, and Cormac McCarthy (whose The Road passes through North Carolina).
The North Carolina Miscellany section of the issue, where we include material not related to the special feature section, will include the 2010 Doris Betts Fiction Prize winning story, "As Breaks the Wave upon the Sea," by Robert Wallace; an interview with Michael Malone by Art Taylor; and an article by Tom Douglass on Richard McKenna, Chapel Hill resident and author of the 1962 novel The Sand Pebbles (film adaptation released in 1966). By way of reintroducing McKenna's work, too, NCLR 2011 will also reprint his short story "The Left-Handed Monkey Wrench." More poetry will appear in this section, too, and books collected for review are still under consideration. As North Carolina readers know, we are a prolific state.
NCLR is published by East Carolina University and the North Carolina Literary and Historical Association. Members of "Lit & Hist" receive a subscription to both NCLR and the North Carolina Historical Review; join Lit & Hist before the end of 2010 to receive the 2011 issue when it is published in July. Non-members can preorder or subscribe through the NCLR office. However you reserve your copy, don't miss the 20th issue of the North Carolina Literary Review. A single issue is $15, or subscribe for two years for $25 and receive, too, the 2012 issue, which will feature North Carolina Literature into Film.
North Carolina Literary Review
East Carolina University
Mailstop 555 English | Greenville, NC 27858-4353
NCLRstaff@ecu.edu | 252-328-1537