The North Carolina Literary Review (NCLR), produced at East Carolina University, publishes interviews and literary criticism about North Carolina writers and high-quality poetry, fiction, drama, and creative nonfiction by North Carolina writers or set in North Carolina. Our definition of a North Carolina writer is anyone who currently lives in North Carolina, has lived in North Carolina, or uses North Carolina as subject matter.
A cross between a scholarly journal and a literary magazine, NCLR has won numerous awards and citations, including five from the Council of Editors of Learned Journals: the Best New Journal award in 1994, the Best Journal Design award in 1999 and 2010, the Parnassus Award for Significant Editorial Achievement in 2007, and the Phoenix Award for Significant Editorial Achievement in 2014.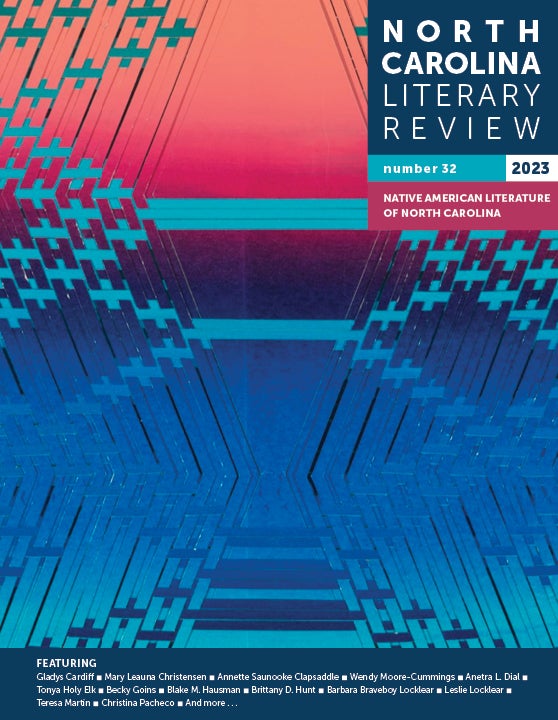 ---
Latest News
David Joy will judge the next Doris Betts Fiction Contest, co-sponsored by NCLR and NCWN.
---
Current Call for Submissions
The North Carolina Literary Review is accepting submissions for the 2023 Betts Fiction Competition from Sept 15-Oct 31.
---
Upcoming Events
---
From the Archives
Friday from the Archives: "Origins and Closure: An Interview with Ariel Dorfman" by Robert Siegal, introduced by Stuart W. Sanderson, with Lorraine Hale Robinson, from NCLR Issue 13 (2004) We would love to have more writings by and about Hispanic and Latinx North Carolina authors.
---
Book Reviews
Saturday Review: "A Port of Despair" a review by Jon Kesler of Michael Keenan Gutierrez's The Swill (2022) Gutierrez's The Swill "captures the gritty feel of a place and point in time."
---
Editors' Blog
"I assigned Fred Chappell's I Am One of You Forever in a college-level Introduction to Literature course. We discussed the book over the course of three or four class periods. Students seemed to be most interested in discussing the weird uncles and the other supernatural elements…"
---
North Carolina Literary Review
East Carolina University
Mailstop 555 English | Greenville, NC 27858-4353
NCLRstaff@ecu.edu | 252-328-1537