The North Carolina Literary Review (NCLR), produced at East Carolina University, publishes interviews and literary criticism about North Carolina writers and high-quality poetry, fiction, drama, and creative nonfiction by North Carolina writers or set in North Carolina. Our definition of a North Carolina writer is anyone who currently lives in North Carolina, has lived in North Carolina, or uses North Carolina as subject matter.
A cross between a scholarly journal and a literary magazine, NCLR has won numerous awards and citations, including five from the Council of Editors of Learned Journals: the Best New Journal award in 1994, the Best Journal Design award in 1999 and 2010, the Parnassus Award for Significant Editorial Achievement in 2007, and the Phoenix Award for Significant Editorial Achievement in 2014.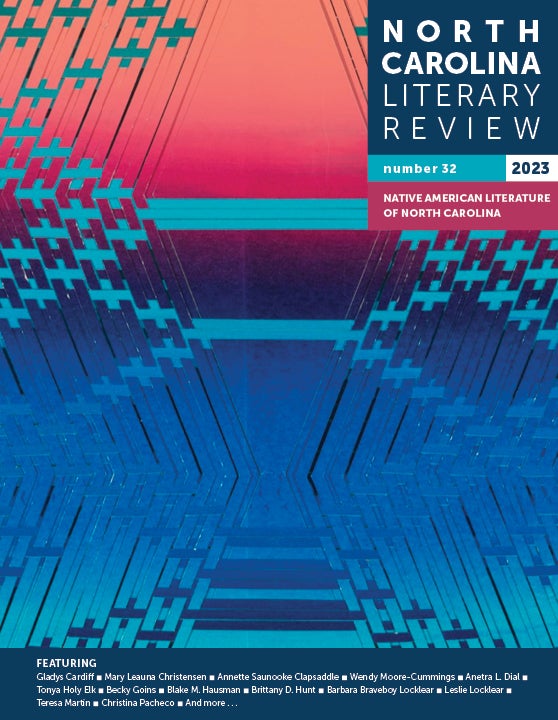 ---
Latest News
North Carolina Literary Review gratefully announces receiving two grants toward community engagement from two prestigious state-wide funders
---
Current Call for Submissions
The North Carolina Literary Review 2024 Alex Albright Creative Nonfiction Prize will open for submissions January 15th.
---
Upcoming Events
Professor Jane Haladay will give the Eutsler Lecture in Children's Literature at 3:00, followed by a pedagogical workshop at 5:00 (reception in between).
---
From the Archives
Friday from the Archives: "The Land Always Calls to Its Own": The Inglis Fletcher Papers" by Maurice C. York from NCLR 1993. The first class of awards included such luminaries as Paul Green, Frank Borden Hanes, Hugh F. Rankin, and Inglis Fletcher.
---
Book Reviews
Saturday Review: "Long Roads and Tall Pines" a review by Rebecca Duncan in NCLR Online Winter 2024. Marjorie Hudson. Indigo Field. (2023) Susan O'Dell Underwood. Genesis Road. (2022)
---
Editors' Blog
We focused on the often taken for granted bits and bobs involved in magazine publication. These may not be the concrete details that make us fall in love with a piece of writing, but they are the details of publishing layout and design that allow readers to immerse themselves in that very dream. 
---
North Carolina Literary Review
East Carolina University
Mailstop 555 English | Greenville, NC 27858-4353
NCLRstaff@ecu.edu | 252-328-1537