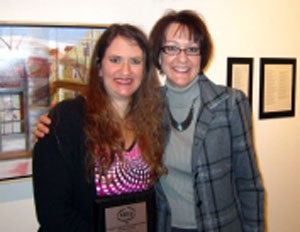 The North Carolina Literary Review (NCLR) has won the 2010 Best Journal Design Award in the recent Council of Editors of Learned Journals (CELJ) competition.
NCLR is published by East Carolina University and the North Carolina Literary and Historical Association. The award was announced at the 2011 Modern Language Association annual conference held in Los Angeles, CA.
"First and foremost, the person responsible for our receiving this award is Dana Ezzell Gay, NCLR's Art Director, who has designed for NCLR since its beginning when she was a student at ECU, working with Eva Roberts, who created NCLR's original design," said NCLR Editor Dr. Margaret Bauer. "Dana approached me in 2008 about a re-design, and while my initial reaction was 'if it ain't broke, don't fix it,' I've often found myself frustrated by people who resist change. I'm glad we decided to take this chance."
The journal was redesigned in 2009, and the 2008-2010 issues were submitted for the competition. NCLR is a large comprehensive body of work – both a scholarly journal and a literary magazine – and includes creative nonfiction, poetry, fiction, and drama to interviews, literary criticism and literary news articles.
"The creation of a new design for a literary journal offers many challenges, but primarily involves developing strong, cohesive visual relationships between text and image," Gay said. "Redesign brings text and image to life in a cohesive way … and asks the reader to embrace the beauty of the words, as well as the layout."
Announcing the award at the City Art Gallery in Greenville, NC, Bauer also praised the efforts of graphic designers Stephanie Whitlock Dicken of Greenville and Pamela and Dave Cox of Five to Ten Design in Washington, NC, as well as the art selections of Art Editor Diane Rodman, a faculty member in the ECU English Department.
This was the second CELJ award for best design for NCLR, with the other coming in 1999. NCLR's other CELJ awards were Best New Journal in 1994 and the Parnassus Award for Significant Editorial Achievement in 2007.
The North Carolina Literary Review is published annually and is available by subscription as well as at several retail outlets across North Carolina.
North Carolina Literary Review
East Carolina University
Mailstop 555 English | Greenville, NC 27858-4353
NCLRstaff@ecu.edu | 252-328-1537