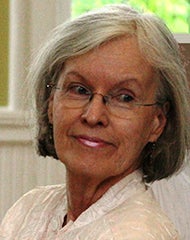 Susan Laughter Meyers is the winner of the 2013 James Applewhite Poetry competition for her poem "Rain." Meyers will receive a prize of $250, and the winning poem will be published in the North Carolina Literary Review's 2014 issue.
Susan Laughter Meyers is the author of My Dear, Dear Stagger Grass, recently published as the inaugural winner of the Cider Press Review Editors Prize. Her collection Keep and Give Away (University of South Carolina Press, 2006) received the South Carolina Poetry Book Prize. Her work has also been published in numerous journals and anthologies, including The Southern Review, Prairie Schooner, and Crazyhorse. A longtime writing instructor, she has degrees from UNC-Greensboro, East Carolina University, and Queens University of Charlotte. She is a North Carolina native from Albemarle and Greenville, now living in the rural community of Givhans, SC, with her husband, Blue.
Former North Carolina Poet Laureate Fred Chappell selected Meyers's poem from seven finalists whose work had been selected for publication in NCLR 2014 by NCLR Poetry Editor Jeffrey Franklin. Chappell said of the winning poem, "The language is modest but charged with feeling; the sensibility is wonderfully gorgeous." Meyers received her award and read her winning poem at the 2013 Eastern North Carolina Literary Homecoming at East Carolina University on September 21.
Chappell also selected Hannah Bonner's "Fox" and C.G. Thompson's "Two Forms of Escape" for honorable mention. Their poems and poems by the other finalists, Debra Kaufman, Joan McLean, Glenis Redmond, and Robert Wallace, will also be published in the 2014 issues of the North Carolina Literary Review.
Published since 1992 by East Carolina University and the North Carolina Literary and Historical Association, the North Carolina Literary Review has won numerous awards and citations. The most recent issue includes poetry by Fred Chappell and James Applewhite.
A two-year subscription to NCLR will include the 2014 issue, featuring the winner and finalists from the 2013 James Applewhite Poetry Competition, as well as the 2015 issue, featuring poems from next year's competition. For subscription information, go to the subscription page.
North Carolina Literary Review
East Carolina University
Mailstop 555 English | Greenville, NC 27858-4353
NCLRstaff@ecu.edu | 252-328-1537