Friday from the Archives:
We asked the student staff in the fall to pick an issue from our archive to write about. Outstanding English Major award-winner Lauren Cekada ('22) chose our 1996 issue, featuring a very special section, spearheaded by NCLR's founding associate editor.
This week's "Friday from the Archives" is dedicated to Bertie E. Fearing, founding associate editor of the North Carolina Literary Review, and her love of cats and literature. At the time of her death in 1995, she was compiling a collection of poems and prose that exhibited the importance of cats, especially when it comes to writers. In her introduction to "Carolina Cats and their Writers," Fearing remarks on her family's unfortunate past with pets and how literature changed her opinion of feline companions. She comments on "cats and their myriad ways through fiction" such as Lewis Carroll's Cheshire Cat and how she sees reflection of her own cat, Jellicle, in fiction like T.S. Eliot's Old Possum's Book of Practical Cats. As she became a "ailurophile," she "wondered if (and if so, how) felines serve as afflatus for writers." And so came the feature on "Carolina Cats and Their Writers." Although Fearing recognized that not all people, or even writers, appreciate cats, she was dedicated to understanding their place in literature and hoped that others would join in her discovery.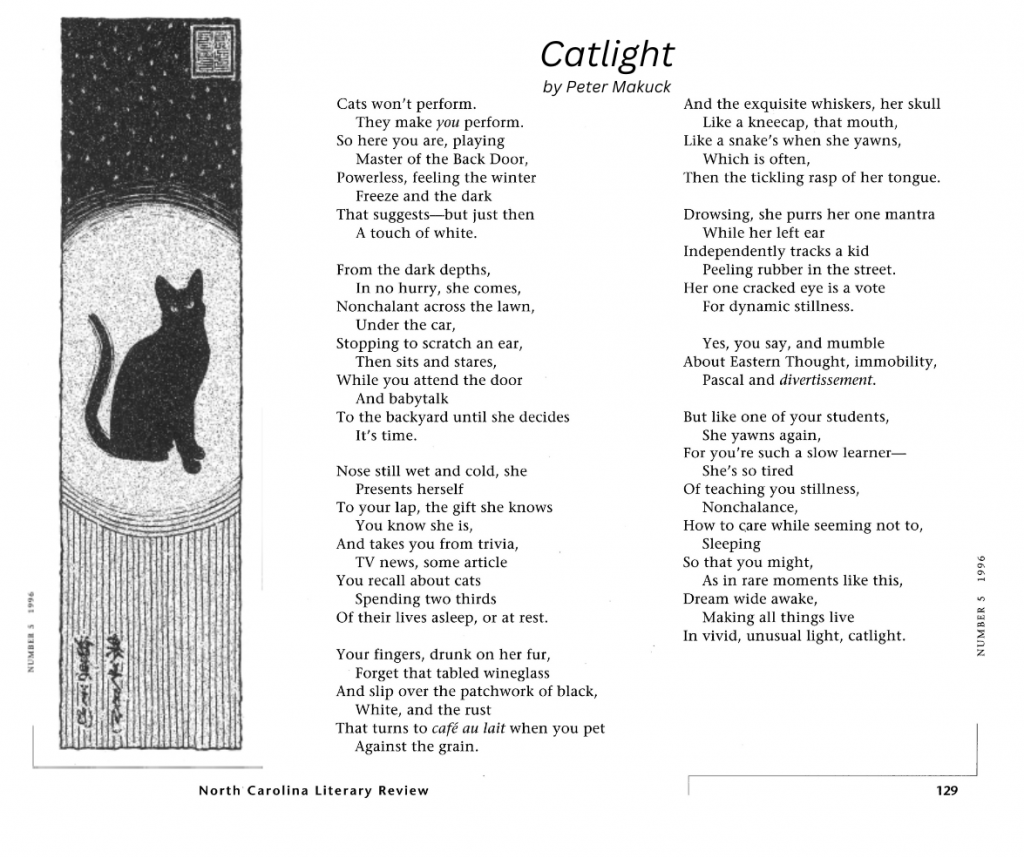 The special section has essays by Robert Morgan, Peter Makuck, Mary Jarrell, Charles Edward Eaton, Constance Pierce, Talmadge Ragan, David Brendon Hopes, Frances Obrist Wellman, Elizabeth Daniels Squire, Rita Berman, Judy Hogan, Margaret Boothe Baddour; poems by Betty Adcock, Jeffrey Beam, Baudelaire translated by Peter Makuck, and Randall Jarrell; and a reprinting of the famous poem by Christopher Smart about his cat, Joeffrey, with scholarly remarks by Glen Brewster.
For the cat admirer, this issue is a must for the collection. Sadly, it isn't available to request yet via Proquest, but you can absolutely order it from our store.
Then keep it in a sunny spot, for your feline friend to lounge upon.