(GREENVILLE, NC) The North Carolina Literary Review is pleased to announce James Tate Hill as the judge for this year's Alex Albright Creative Nonfiction Prize Competition. The annual prize is awarded to the best short creative nonfiction story by a North Carolina writer or set in North Carolina.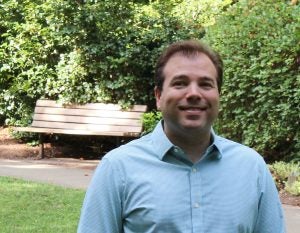 Hill is a writer based in Greensboro, North Carolina. His most recent work is Blind Man's Bluff, a memoir, published in 2021 by W.W.Norton. He has also published a novel and numerous essays and short stories. He is the Fiction Editor of the literary journal Monkeybicycle, which publishes new and established authors of short fiction. He also teaches English at NC A&T. Hill holds an MFA in Creative Writing from UNC Greensboro.
The North Carolina Literary Review is actively expanding the diversity of judges, guest editors, and writers published. Part of that outreach includes the 2024 focus on "Disability (in) North Carolina literature." Hill's memoir is about learning to live and love as legally blind; he also writes a monthly audiobooks feature for Literary Hub. He says, "…as a visually impaired reader who has read exclusively with my ears since the age of sixteen, my goal is to champion what many once considered lesser versions of print."
Hill is excited to be this year's creative nonfiction judge. "'To bring one's self to others makes the whole planet less lonely,' writes Mary Karr in The Art of Memoir. In our increasingly divided world, this is easier said than done," Hill remarked. "It's even more difficult to bring one's experience to the page with the perspective and wisdom demanded by creative nonfiction." Prior judges include Alex Albright himself, Randall Kenan, Phillip Gerard, Elizabeth Hudson, and others.
Since its start over 30 years ago, NCLR has been a venue for strong creative nonfiction. The Alex Albright Creative Nonfiction Prize was created in 2015 to honor the founding editor of NCLR. The North Carolina Literary and Historical Association funds this contest, providing honoraria for Albright Prize honorees, judges, and finalists selected for publication. Previously unpublished short pieces up to 7500 words are accepted through March 1st. In order to submit, writers must subscribe to the journal. More details on the submission requirements can be found on the website. In addition to a monetary prize, the winning essay is published in NCLR and nominated for a Pushcart Prize.
Produced since 1992 at East Carolina University, the North Carolina Literary Review has won numerous awards and citations. The mission of NCLR is to preserve and promote North Carolina's rich literary culture. NCLR introduces new and emerging writers; reintroduces forgotten authors; showcases work in literary criticism, interviews, book reviews, fiction, creative nonfiction, and poetry; and reports on literary news stories. We complement the writing with the work of North Carolina artists and photographers.
###