April 11, 2023
April is National Poetry Month! Celebrate with NCLR and North Carolina Humanities!
This virtual poetry reading event presented by North Carolina Literary Review (NCLR) and North Carolina Humanities (NCH) features past James Applewhite Poetry Prize winners, honorees, and finalists. To register, visit: https://us06web.zoom.us/webinar/register/WN_1o7t9HdASuWlR09zzE5GmA#/registration
Enjoy readings from: Anne Myles, Barbara Campbell, Debra Kaufman, Jamal Michel, Janis Harrington, Jo Ann Hoffman, Maureen Sherbondy, Nancy Swanson, and Stan Absher.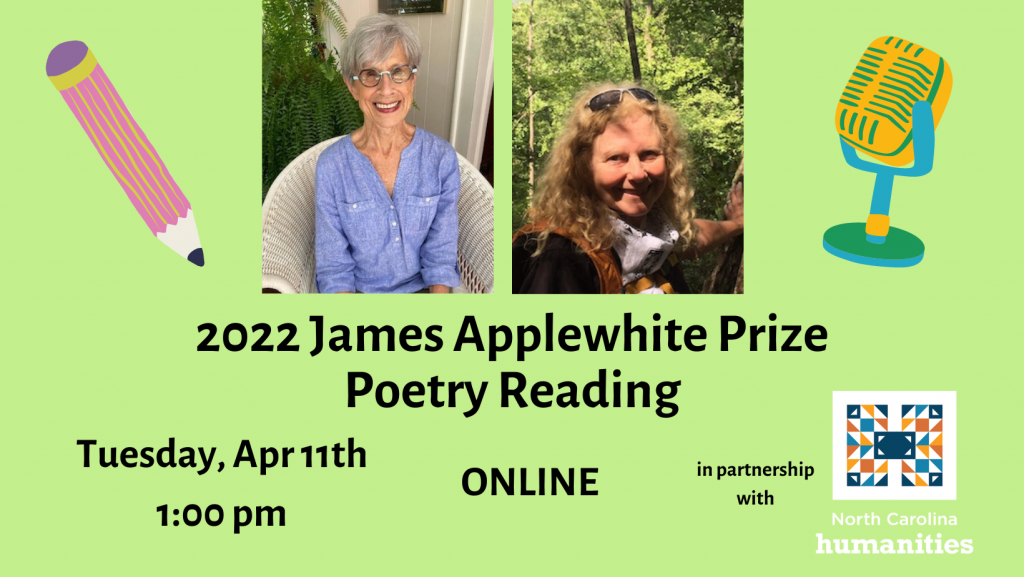 NCLR's James Applewhite Poetry Prize competition is open to any writer who fits the NCLR definition of a North Carolina writer: anyone who currently lives in North Carolina, has lived in North Carolina, or uses North Carolina as subject matter. Poetry submissions are accepted April 1–30, 2023. The winner receives $250 and publication in NCLR. Finalists will also be considered for publication and receive honoria. Apply and learn more at: www.nclr.ecu.edu.
Through grantmaking and public humanities programs, North Carolina Humanities connects North Carolinians with cultural experiences that spur dialogue, deepen human connections, and inspire community. North Carolina Humanities is a statewide nonprofit and affiliate of the National Endowment for the Humanities. Learn more at: www.nchumanities.org.