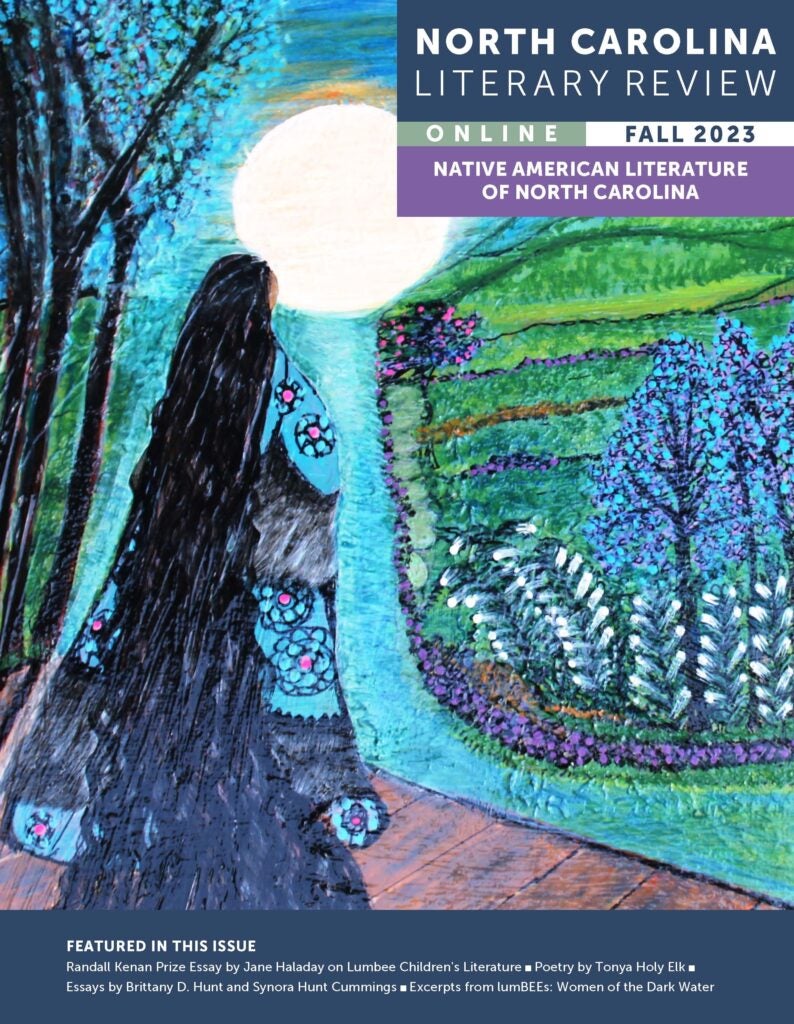 FOR IMMEDIATE RELEASE

The North Carolina Literary Review 2023 feature is Native American Literature of North Carolina, guest edited by Dr. Kirstin L. Squint, and for this third issue, the feature content is all Lumbee. Dr. Squint introduces the final issue under her guest editorship "with mixed emotions," especially "pride at what the editorial team has accomplished and how we have been able spotlight so much incredible writing and artwork by Native American citizens from North Carolina's tribes."
The fall issue's special feature section begins with Jane Haladay's important essay on the way she uses Lumbee-authored children's books in her service learning classes at UNC Pembroke to engage with local elementary schools and is complemented with a reflection by Brittany Hunt, author of Whoz Ya People?, detailing how she came to write her story.
Following these essays are a piece by Lumbee Synora Cummings responding to the new production of The Lost Colony, which finally features Native actors, and an excerpt from the Lumbee-authored play, LumBEES: Women of the Dark Water, staged in 2019 at Fayetteville's Cape Fear Regional Theater. Read a poem in the section by Lakota/Lumbee poet, Tonya Holy Elk. As is usual for NCLR issues, the written content is complemented by art, in this section by North Carolina Lumbees Joan C. Blackwell (on the issue cover) and Alisha Locklear Monroe.
This issue's Flashbacks section starts off with a collection of pedagogical essays. Editor Margaret Bauer says, "This project has been aspirational for some years now, and thanks to a grant from North Carolina Humanities, we have collected several pedagogical pieces that we hope will inspire more." This section dives into the importance and impact teaching makes in the lives of not only their students, but parents and community. Shelley Ingram introduced an eight-week course that focused on the celebrated author, Randall Kenan. Marie T. Cochran and Jesse Wharton worked together to create a lesson plan that would use Victoria Casey McDonalds Just Over the Hills: Black Appalachians in Jackson Country, Western North Carolina to provide insight into the life of people in Jackson County. Cori Greer Banks taught her students about the historic coup d'état in Wilmington through a YA novel, Crow by Barbara Wright. The Wilmington coup was news to not only her students, but their parents as well, which resulted in a field trip with the parents and students visiting the site of the historic coup d'état. Read about how these educators, and several others, have changed the lives of their students and communities with their teachings.
Following the pedagogical material, find book reviews (of 17 new books by North Carolina writers) and original poetry, fiction, and creative nonfiction from NCLR's contests. The issue's North Carolina Miscellany section opens with a story about the newest NCLR contest, the Jaki Shelton Green Performance Poetry Prize contest, in which NCLR releases links to the winning and other performances selected by final judge Glenis Redmond.
NCLR Online issues are open-access. Find the full table of contents of this issue and, upon its release, a link it here. Purchase the print 2023 issue via UNC Press. Subscribe to NCLR for the 2024 print issue, which will feature Disability (in) North Carolina Literature.