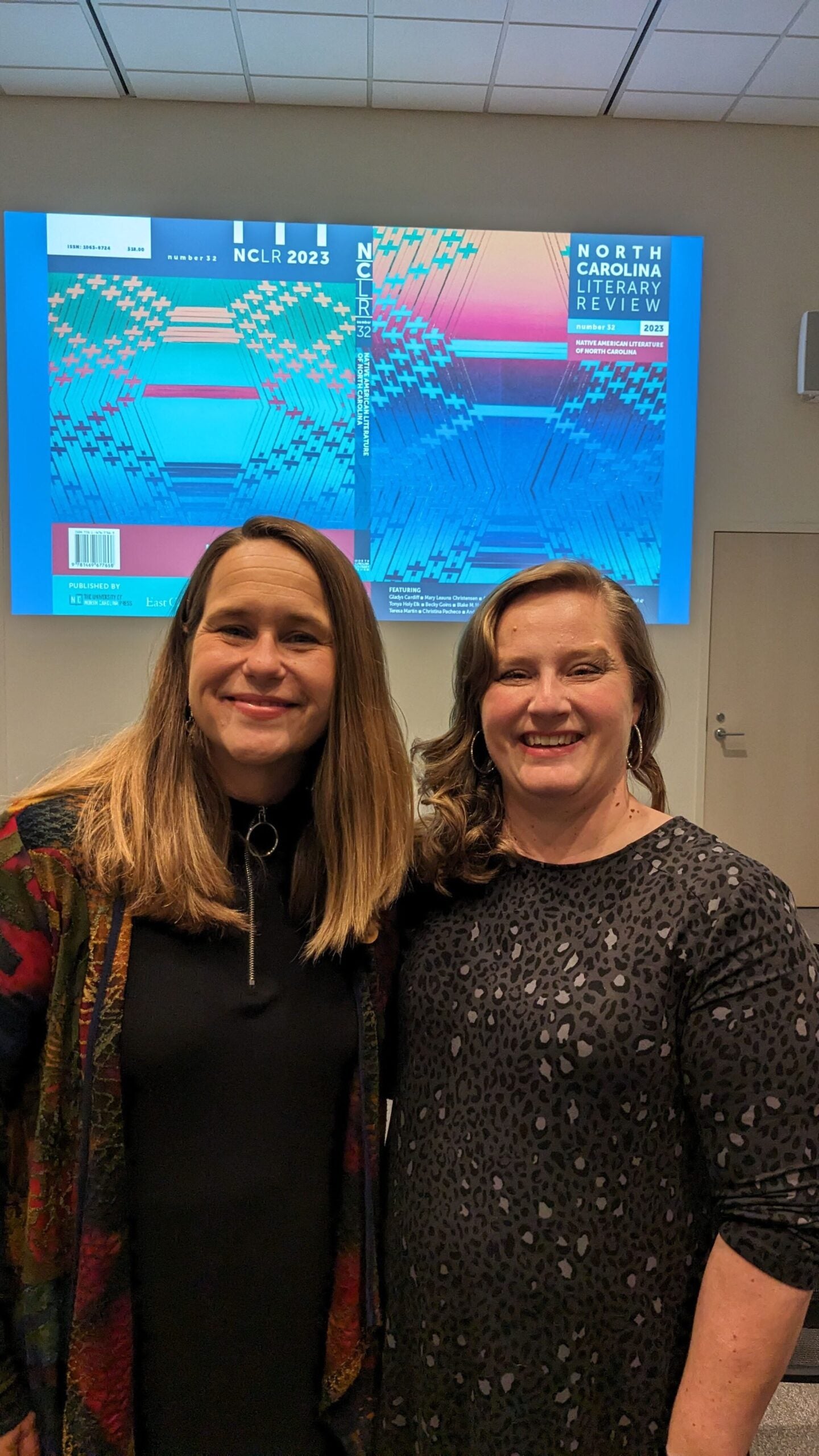 FOR IMMEDIATE RELEASE

[Greenville, NC] North Carolina Literary Review gratefully announces receiving two grants toward community engagement from two prestigious state-wide funders: the North Carolina Arts Council and North Carolina Humanities. These grants will fund personnel, events, and production costs in the current academic year.
NC Humanities approved funding for community engagement events in Cherokee and Greenville in 2024. Guest Feature Editor Kirstin Squint, Associate Professor of English at East Carolina University, will host a panel of Cherokee writers and scholars from the 2023 issues, the first issue to feature Native American Literature of North Carolina. Accompanying her will be EBCI novelist Annette Saunooke Clapsaddle and poet Mary Leauna Christensen, among others. Dr. Squint said, "We are so excited to receive a North Carolina Humanities Community Engagement grant for our project, 'Engaging Communities with Indigenous North Carolina Literature.' The grant will help to highlight and promote the historic 2023 issue of North Carolina Literary Review, the first to feature Native American literature of North Carolina. It will also let us engage more fully with North Carolina Indigenous communities, sharing the excellent writing and artwork by Native authors and artists in the issue."
The NC Humanities grant also allows UNC Pembroke Professor Jane Haladay to visit ECU to conduct a workshop on the service learning project described in her Randall Kenan Prize-winning article "Coming Home: Affirming Community Through Lumbee Children's Literature." The article is part of NCLR's newest initiative, "Teaching NC Literature," which seeks to increase usage of NC historical and contemporary literature in K-12 and post-secondary classrooms across the state.
For a second year, the North Carolina Arts Council awarded NCLR a Spark the Arts grant to fund the Digital Editor position and the increased costs associated with producing more issues each year. Between adding a second digital open-access issue and the growth of NCLR's website usage and social media accounts, more writers and readers are connecting with North Carolina's rich literary culture. NCLR is proud to offer honoraria to the writers and artists published in each issue. "NCLR exists at the intersection between the arts and humanities, so being supported by both organizations is testimony to how we work toward both preserving and promoting our amazing literary community," saluted Digital Editor Devra Thomas.
"Both grants are allowing us to extend our mission's reach," explained Editor Dr. Margaret Bauer. "With the NC Humanities Community Engagement grant, we will share our first issue featuring Native writers of North Carolina with Indigenous communities, thus introducing more Native writers to NCLR, encouraging them to submit to future issues. The NC Arts Council's Spark the Arts grant provides funding to address our goal of reaching more readers. Devra Thomas, who joined the staff as Digital Editor in 2022, has broadened our audience through regular content sent out through social media and shared on our website."
For more information on bringing NCLR to your campus or literary event, please visit the NCLR website.

Produced since 1992 at East Carolina University, the North Carolina Literary Review has won numerous awards and citations. The mission of NCLR is to preserve and promote North Carolina's rich literary culture. NCLR introduces new and emerging writers; reintroduces forgotten authors; showcases work in literary criticism, interviews, book reviews, fiction, creative nonfiction, and poetry; and reports on the state's literary news.