Special Feature: North Carolina Literature in a Global Context
Pushcart Nominations
Taylor Brown
Susan Lefler
Jude Whelchel
North Carolina Writing Beyond the State's Borders
​​section introduction by Margaret D. Bauer, Editor
"Global North Carolina springs to mind as a category that could include writers . . . who have a deep history in North Carolina but write books largely set somewhere else."—Elaine Neil Orr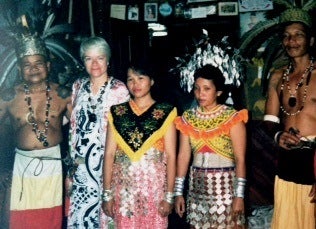 Big Joy Family
a short story by Jude Whelchel
art by Mona Wu
An Appetite for Language: Introducing Monique Truong
by Lisa Hinrichsen
Burning Bush
a poem by Susan Lefler
art by Eduardo Lapetina
Traveling the Psychic Highway
Monica Byrne, The Girl in the Road
a review by Kathaleen E. Amende
​​Monica Byrne on Storytelling and Violence in The Girl in the Road 
an interview with Monica Byrne
by Kathaleen E. Amende ​
The L Word and Coming in June
two poems by Barbara Conrad
art by Susan Weil
Ketupong
creative nonfiction by Jane Shlensky
Bird Watching
​Megan Mayhew Bergman, Birds of a Lesser Paradise
Lee Zacharias, The Only Sounds We Make
a review by Brian Glover
Perfect Pitch
a poem by Richard Betz
art by Silvia Heyden
Listen to the poet read the poem here. ?
​Drink Your Juice, Shelby
Tim Anderson, Sweet Tooth
a review by Gary Richards ​
AAUW Juvenile Literature Award
Insomnia Well Spent
Kat Meads, 2:12 a.m.
a review by Donna Gessell
​Distance and Deadweight
two poems by Marylin Hervieux
art by Joseph Fiore
​Hope Without Expectations
Kim Church, Byrd
a review by Leigh G. Dillard
​Lee Smith Receives Third Sir Walter Raleigh Award
After Perusing Grandma's Scrapbook
a poem by Grace C. Ocasio
art by J. Stacy Utley
Listen to Susan Laughter Meyers reading the poem here. ?
Moving Away from the Lenticular?: The Politics of Race, Gender, and Place in Godfrey Cheshire's Moving Midway
by Margaret T. McGehee
New Film Clips for this essay
Page 52: Silver explains move
Page 53: The move begins
Page 58: Different perspectives
on Move
Page 59: Hinton's initial visit
Page 60: Slavery history at Midway
Page 61: Opposing views on Civil War
Page 63: Interracial family ties
Page 64: Hinton's Visit to Midway
Page 65: Closing scene
Two Epistolary Offerings from the North Carolina Division of Archives and History
John R. Barden, ed., Letter to the Home Circle
Judkin Browning and Michael Thomas Smith, eds., Letters from a North Carolina Unionist
a review by Lorraine Hale Robinson
desertion
a poem by Marcus Gregory Johnston
art by George Scott
Listen to the poet read the poem here. ? ​
"coloring outside the lines"
Diane Chamberlain, Necessary Lies
a review by Amanda M. Capelli
World without End
a short story by Taylor Brown
art by John Urbain
Another Addition to Western North Carolina's Literature of Place
Jeremy B. Jones, Bearwallow
a review by Brent Martin
​Pitfalls of Parenting
Drew Perry, Kids These Days
a review by Annie Frazier
Cozy Up with a New Southern Mystery
Ruth Moose, Doing It at the Dixie Dew: a Mystery
a review by Joseph Horst
Ira David Wood III Receives the 2014 North Carolina Award for Fine Arts
"love just the way it is"
Elizabeth Spencer, Starting Over
a review by Sally F. Lawrence
Present-Tense Drifters
Michael Parker, All I Have in This World
a review by Jim Coby
A Mighty Pretty Blue
fiction by Michael Parker 
art by JoAnn H. Hart
Redemption, Inspired and Questioned
Joseph Bathanti, Half of What I Say Is Meaningless
Earl Swift, Auto Biography
a review by Lisa Proctor
​Overcoming the Southern Cult of Authenticity
Wiley Cash, This Dark Road to Mercy
a review by Zackary Vernon
Allan Gurganus Receives the R. Hunt Parker Award
Mapping the Unknown Self
Joseph Bathanti, Concertina
David Radavich, The Countries We Live In
a review by George Hovis
Two 2014 North Carolina Awards for Literature
On Cats and the Cosmos
James Applewhite, Cosmos
Fred Chappell, Familiars
a review by Rebecca Godwin
The Reenactors  and Seafarer's Marriage
two poems by James Applewhite
art by McDonald Bane and George Bireline
Kathryn Stripling Byer: Her "words are gates swinging wide open"
a tribute by Tara Powell
Carolina Mourning: or, Still Life with Squirrels
Laurence Avery, Mountain Gravity
Shelby Stephenson, The Hunger of Freedom
a review by John Steen
How We Got Our Names
a poem by Marty Silverthorne
art by Richard Kinnaird
Listen to Shelby Stephenson reading the poem here. ?
The Ever-Changing Field
Becky Gould Gibson, Heading Home
a review by Sarah Huener
A Great Day for Poetry in North Carolina:  Four "Global" North Carolina Writers Inducted into the North Carolina Literary Hall of Fame
by Margaret D. Bauer
Other Nominations from this Issue
storySouth Million Writers Award
Taylor Brown
Jude Whelchel (2nd place)
2014-15 Student Staff
Editorial Assistants
Abigail Hennon 
Jimmy Hicks 
Brianne Holmes 
Interns
Cassidy Carlaccini 
Stefani Glavin 
Emily Holley 
Elizabeth McCarty 
Kami Wilson 
North Carolina Literary Review
East Carolina University
Mailstop 555 English | Greenville, NC 27858-4353
NCLRstaff@ecu.edu | 252-328-1537