by Marie T. Cochran
Victoria Arvella Casey McDonald (1943–2014) began her teaching career at the National Teacher Corps, Log Cabin School in Cullowhee, North Carolina. This began her thirty years of service in the Jackson County school system, where she continued as a substitute teacher and mentor until her passing. I met Victoria Casey McDonald as a visiting faculty member at Western Carolina University. Our paths crossed as participants in several rural activist causes. In hardly any time at all, Victoria became my "community ambassador," spiritual mentor, and dear friend.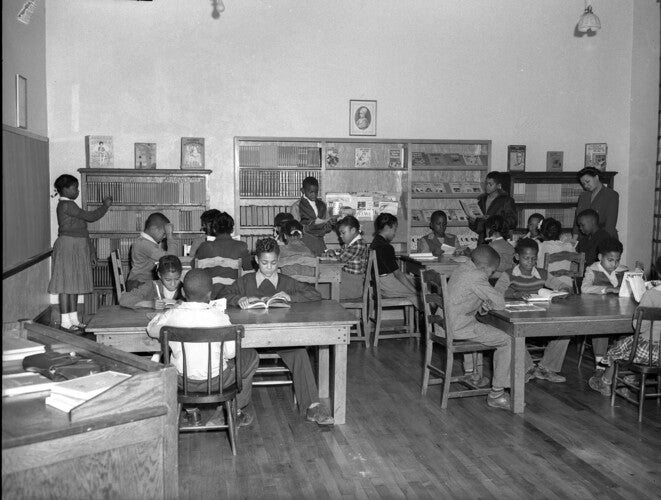 Victoria was a passionate storyteller. Under different circumstances, these stories might have been recounted as part of the Liars Bench, a casual storytelling practice, traditionally among Southern men sitting in the public square and at barber shops sharing folktales of a bygone era for entertainment purposes only. Yet, the Black Appalachian narratives Victoria assembled seem more aptly characterized in the African griot's tradition of the Diaspora.
Decades before "multicultural" became a familiar term, as a Western North Carolina educator Victoria incorporated African American and Native American voices into her classroom. Long before the term "Affrilachia" was coined, she gathered the stories of her family and neighbors in Jackson County. Originally published in 2012, her book, Just Over the Hill: Black Appalachians in Jackson County, Western North Carolina, is a collection of narratives that illuminate the lives of African Americans in the region. These stories include her grandmother, Amanda Thomas, who was born into bondage. The biographies and histories continue through the twentieth century and feature educators, soldiers, factory workers, ministers, athletes, and other community members. A decade later, Western Carolina University's Hunter Library applied for a UNC Press Thomas W. Ross grant to publish a new edition of Just Over the Hill (UNC Press, 2022). Available now as a paperback and e-book (and through J-Stor), it provides a useful literary tool for introducing Black voices of Appalachia into the classroom. Victoria's daughter, Fautine Casey-McDonald, said on the occasion of the reprint of Just Over The Hill, that her mother's book "is much needed in the community, which is finding a younger generation as well as people moving here, wanting and needing to know the history of the area. It excites me to know people will understand how much the African American community contributed to the building of the community they live in today." ("Book on Black Appalachians Gets New Life," Sylva Herald 20 Apr. 2022: web.)
When many people picture Appalachia, they envision a white person playing a banjo, but most people don't know that the banjo has African roots. The presence of people of African descent living in the mountains, documented as early as the 1700s, is not grounds for debate but, rather, should inspire dialogue. Over the centuries, vibrant black enclaves have thrived in the mountains. As one would expect in the South, black Appalachians were subjected to systemic discrimination, and, like many white Appalachians they struggled with poverty. However, the resilience of the Appalachian people of all races is apparent in the generations of subsistence farming families, community engagement, folkways, and religious devotion. And yet, their stories, contributions, and accomplishments are not often included in curricula and thus in danger of being forgotten, if not for teachers like Jesse Wharton. Wharton has engaged in a critical study of how the histories of Affrilachians are told and not told through a survey of historical markers in the city, including a Black history and culture tour led by Dwayne Barton, C.E.O. of Hood Huggers International. Wharton also took students on a visit to the Zebulon Vance Birthplace site and engaged her students in a discussion about the controversial (now former) Vance monument that then stood on Pack Square honoring the Confederate North Carolina Governor.In her efforts to shift her students' understanding of what it means to be Appalachian and even what it means to be a North Carolinian, Wharton introduced the concept of Affrilachia to her middle school students through a study of Affriliachian poets (notably Frank X Walker and Nikky Finney).
Wharton also teaches Appalachian Storytelling, an 8–10 week-long interdisciplinary unit at Evergreen Community Charter School in Asheville. Wharton has consistently incorporated oral histories into her classroom as a way to pair omitted voices with official historical accounts and records. Students learn about the region, then conduct and record oral history interviews as a way to preserve the history. The unit ends with a celebration called Appalachian Shin-Dig, to showcase everything they've learned. In October 2017, I was invited as a guest speaker to present about the Affrilachian Artist Project and to be interviewed by a student during a classroom session. This was my introduction to Wharton's work, which offers a model for exploring the diversity of the state in the classroom. (Find Jesse Wharton's lesson plan on the Carolina K-12 website.)
After learning about Wharton's efforts to bring Affrilachian voices into the K-12 classroom, I was inspired to collaborate with her on an effort to create a curriculum focused on the multifaceted life and work of Victoria Casey-McDonald.
Marie T. Cochran is the founder of the Affrilachian Artist Project. A Georgia native, she has been a member of the art faculty in Georgia, New Jersey, Maryland, and North Carolina, where she served as the Lehman Brady Professor, a joint position at Duke University and UNC Chapel Hill.
Read more about NCLR's pedagogical initiative in NCLR Online Fall 2023 (coming soon).
---